Welcome to the Costa Rica Surfing Travel Directory.  We hope that the information on this site will help you plan your next surfing vacation to Costa Rica.  Surfing has become a popular pastime in Costa Rica.  Surf Travel is booming in Costa Rica.  And now that the Costa Rican National Surf Team is the current ISA World Surfing Champions, the rest of the world is beginning to take notice of this small, peaceful, Central American country.
If you've never been to Costa Rica, you have to visit.  Costa Rica's abundant nature, pristine beaches, friendly locals, and incredible surfing waves, make this a must see surfing travel destination.  Costa Rica has great surfing waves all year long.  During the spring and summer months, from March to September, southern hemisphere swells produce world-class waves, on south facing beaches, that surfers from around the globe flock to.
The fall and winter months are when northwesterly swells send great waves, though usually a bit smaller than the southern swells, towards the north and west facing beaches of Costa Rica.  Either way, Costa Rica is a great surfing destination for every level of surfing ability.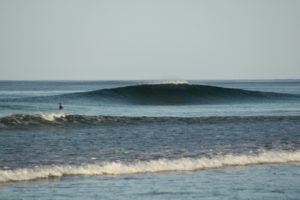 Tamarindo Beach has an abundance of surf schools and surf camps to teach beginners and intermediate surfers everything they need to know to feel comfortable surfing in the ocean waves.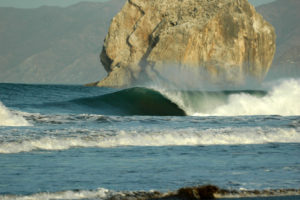 Witches Rock, on the Parque Santa Rosa, is an incredible beach break that can handle big waves that although can be access by vehicle, is usually accessed by boat.  If you want to hire a boat to surf Witches Rock, or Ollies Point, then we can help point you in the right direction.  We have several surf tour operators that we work with providing surf tours to Witches Rock and Ollies Point.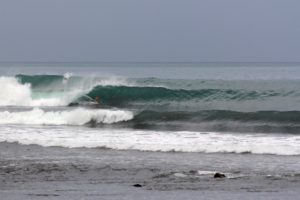 Pavones is the second longest surfing wave in the world, and arguably the best left point break in the world.  If you haven't experienced surfing this mile long wave when the swells are pumping, you don't know what you are missing.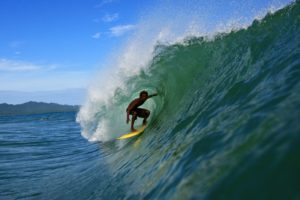 The Caribbean coast of Costa Rica has an abundance of surf breaks to choose from.  The northern coastline near Tortuguero has miles upon miles of uncrowded beach break waves, but is difficult to access.  Most of the surfing is centered around Puerto Limon southwards.  Salsa Brava is the most famous reef break that produces big hollow barrels when storms in the Caribbean generate powerful short period wind swells that focus their energy on the shallow reefs just offshore from Puerto Viejo.
If you have any questions about where to go on a surf trip to Costa Rica, feel free to contact us anytime at info@CostaRicaSurf.com
The Costa Rica Surf Team wishes you a great surfing vacation to Costa Rica.