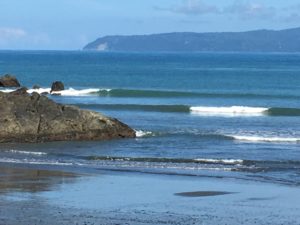 This is the surf report for Pavones, Costa Rica on July 6, 2016.  Glassy conditions with light winds out to the south west, and a small 1-2ft south swell in the water.  The waves are quite small again this morning, and the low tide isn't helping!  Winds began to pick up around 10am, making for unfavorable conditions even more so.  Hopefully, tomorrow will bring us a new swell.  We need all the help we can get.
Costa Rica tides:
9.63ft High Tide @ 3:55am
0.13ft Low Tide @ 9:56am
9.87ft High Tide @ 4:11pm
-0.53ft Low Tide @ 10:23pm
Surf forecast for Pavones, Costa Rica is showing a slight increase in southwest swell starting tomorrow evening and picking up through the weekend, with some significant swell to start next week.