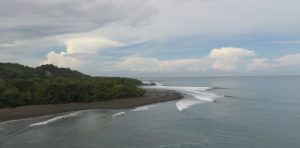 Surf report for Pavones, Costa Rica on Wednesday July 20, 2016.  Glassy conditions with light winds out to the south southwest, with a nice overhead south swell running at 4-6+ feet with plenty of overhead sets coming through.
Costa Rica tides:
8.57 ft High Tide @ 3:01am
0.98ft Low Tide @ 8:56am
9.16ft High Tide @ 3:12pm
0.15ft Low Tide @ 9:22pm
Surf forecast for Pavones, Costa Rica is showing a slight decrease in south swell tomorrow, with some head high set waves for the next couple days.